Make sure your biggest investment is protected. Your home
Get A Quote
Fill the next form and we will contact you as soon is possible.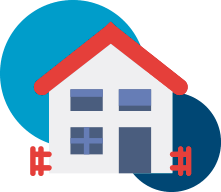 Home insurance is a type of insurance designed to give you financial protection in case of a disaster or an accident.
Home Insurance
There are many benefits to having a home insurance policy. Homeowners insurance covers your house, cottage, or any standing structure on your property. It not only provides protection but it also brings peace of mind and security. Before deciding on a policy, it is important to gather knowledge regarding what each homeowners insurance policy covers. An agent should walk you through what is covered and how the process works. Get all of your questions answered before purchasing a homeowners insurance policy.
Home insurance includes property damage coverage for any structure on your property, whether you live in a farmhouse, on an island, or in the heart of the city. A home insurance quote is primarily dependent on your location and the condition of your home. Sometimes, the rate for theft and vandalism protection will be higher if your home is located in an area plagued with frequent crime and theft.
However, there are ways to save money on your homeowners insurance policy. If you maintain the electrical system in your home, you can save money on your policy because it will lower the chances of a house fire from occurring. Similarly, if you have hurricane shutters on your beach home, it will lower your policy premium as well.
Previously, it was more difficult to receive a home insurance quote because it involved several steps. Now, you can get all of the information you need within a single click. This allows you to compare and choose the best homeowners insurance quotes. This strategy can also be implemented for car insurance, renters insurance, and auto insurance policies. However, it is beneficial to speak with an experienced agent as well so they may recommend what suits your needs best and answer any questions you may have.
Types of Home Insurance Policies
Home insurance policies differ for rented and owned homes. Renters insurance covers the replacement of your possessions due to unforeseen damage and perils. It also provides you with liability coverage. However, collectible items are typically not covered under a standard renters insurance policy.
Homeowners insurance has a higher premium because it covers the entire structure you own. If your assets are damaged by burglars, fire, hurricane or other unforeseen events, the replacement of your assets are covered on your home insurance policy. If you are forced to move out of your home due to any reason that is covered by your policy, your insurance will cover your living expenses.
Before you purchase a homeowners insurance policy, familiarize yourself with the terms and conditions of the policy you are interested in. Insurance coverage can provide you with security when unfortunate events occur but it is vital to understand what your policy covers.
Consider purchasing a homeowners insurance policy to ensure your home is covered in the event of a fire, earthquake or any other threat. Having homeowners insurance, can provide security and peace of mind to you and your family.

Call us or
submit your
free quote

We connect to
30+ carriers
To find the best carrier for your specific needs with the best pricing

We get you
coverage
And ensure that you remain protected
Features and Benefits of Olson Insurance
Olson Insurance provides home insurance at reasonable cost. Our home insurance features and benefits include protection to your dwelling, other structures, and personal property, as well as liability protection.
Dwelling Protection
This is a basic coverage of a home insurance policy. Dwelling protection covers the home structure itself and the structures attached to it like a deck or garage. With Olson Insurance, rest assured that you will get the necessary financial protection for your home against certain risks.
Other Structures Protection
Some policies do not include other structures that are not attached to the home. In Olson Insurance, we do not only protect the home structure itself, we also provide protection to other parts of your home that are not attached to the main structure. The part of your property detached from your home may include a fence, tool shed, storage room and a detached garage.
Personal Property Protection
Home insurance is not only limited to the home or other structures. It also covers personal belongings that you keep inside your home. This comes in handy when your furniture gets damaged by accident or by a fire or if your beloved belongings get stolen or vandalized. Our personal property protection will help pay for the cost of repairs and replacement of your belongings damaged, destroyed or lost due to a covered risk. If you have valuables like luxury watches and jewelry, you can also purchase an extended coverage for these items.
Liability Protection
Home insurance policy also provides liability protection. This covers you financially if someone not living with you, a visitor perhaps, gets injured while inside your home or your property. Liability protection will help you pay for the legal expenses and medical bills due to the accident or injury. You may also add a personal umbrella policy to increase your liability coverage.
Kind Words from our Clients
Heather Olson is by far the best insurance agent I have ever had the privilege of working with! Her explanations are clear and understandable and she presents options and choices in a very easy and non-pressure way. She is always quick to respond and her office staff is also always friendly and professional. One could not find a better agent to advise on insurance.
CR
We have had the pleasure of using Heather Olson as our insurance agent for over 10 years.  Never has she disappointed us in her direct and friendly business approach.  She obviously values our business and routinely stays in touch with us to ensure our needs are being constantly met. 
 We find the rates more than competitive and when you throw in the additional service it is the best deal we could fine.
In addition, as we reached the milestone 65 years of age, she helped explain how best to utilize the benefits verses the costs.
By all means, use Heather Olson, you won't be disappointed.
RRF
 I have never worked with somebody more reliable and attentive. I can always rely on honest information from Heather and I'm a lifetime customer. There's no o me else I would trust with my insurance needs. Heathers professionalism and industry knowledge is irreplaceable! 
HR
Heather is one of the most trustworthy people I know! She always puts her clients first! You can't find a better agent anywhere!!  
J.D.
Insurance is one thing nobody really wants to buy, along with which its not all that easy to understand, and yet its needed for so many things in our lives forcing us to make decisions along these lines.   Having Heather to call makes you comfortable for she makes it easy to understand and you know she's doing her utmost to fit you with the proper policy for your needs at that time.   I have recommended her to others and am most confident in having done so.
Andi
Heather has been a real pleasure to work with, and it is comforting to not have to worry about our family's insurance needs given her extensive experience. I feel like she has my family's best interest in mind and can find effective, affordable plans that fit into our comprehensive strategy overall. She is very responsive and communicates efficiently. Definitely would recommend to anyone looking for an agent that has your family's best interest in mind.
Ryan
Just a note of appreciation for your kind referral to Heather Olsen. She's a very pleasant person, and a complete professional. She promptly responded and offered two options for my consideration, even though one of those options was sold by one of her associates. I absolutely am pleased and  can say she's earned your referral. Thank you very much.
Rick B